"

I love your music. It's full of caring, nurturing vibes and intelligent interest in other people without cloying sentimentality. Your music, and Blue Calluna's performance of it, is a most marvellous and special thing."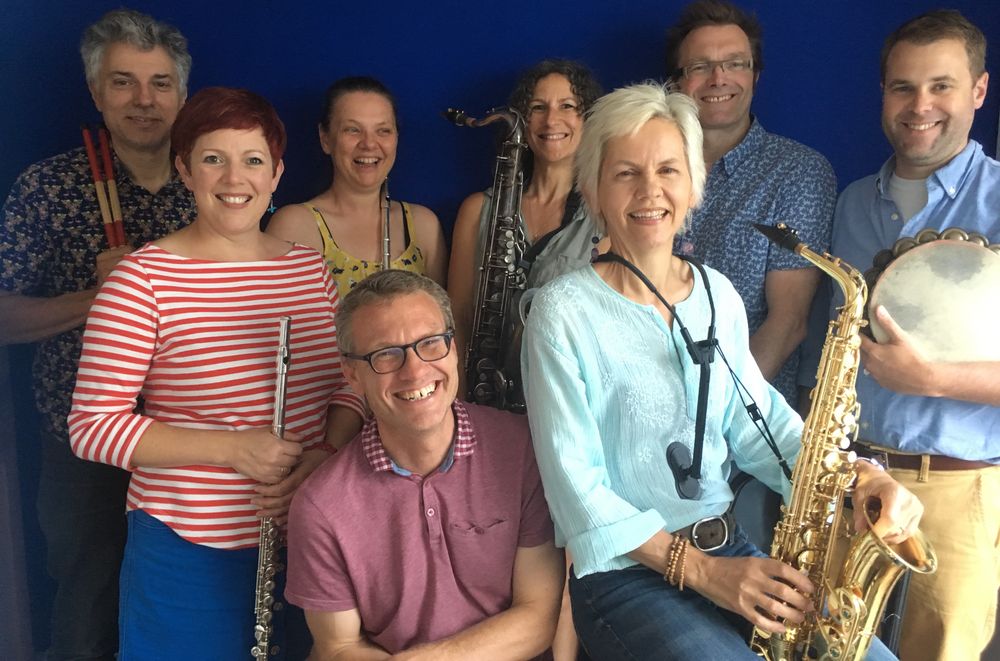 About Blue Calluna
Hilary Burt's Blue Calluna is an 8 piece band from Brighton, England, playing jazz influenced original music by composer/arranger Hilary Burt. The music blends flutes, saxes and vocals with piano, bass, drums and percussion to create carefully crafted songs rich in texture and harmony. Jazz, latin, funk and folk combine to make a unique and beautiful sound. Their first album, Step Off And Fly, is available on Spotify and Apple Music as well as on the Muisc page of this website..  
'Calluna' is the latin word for heather. My husband and I have had quite a few holidays in Scotland - one in particular where we were able to walk from our cottage straight into the heather-clad hillside with our Golden Retriever Georgie. It was amazing and I didn't want to leave! The location of that holiday home was in Galloway and my song, 'Grass Is Always Greener', features the hills of Galloway. 
As for 'Blue Calluna', there is no 'blue' calluna as such - only in the musical form! The full name for the heather is Calluna Vulgaris and flower colours range from white through pink to red. Blue happens to be one of my favourite colours so that's what I decided to call the band!
Hilary Burt - composer, flute, alto sax
Growing up in a musical family in Southampton, Hilary had a confident  5 years at primary school, learning piano, flute, guitar and recorder, happily performing in assemblies and taking part in every school orchestra and choir event.  However she gave up all musical activities at secondary school due to bullying, luckily continuing with her private piano lessons and moving through the grades.  She went on to study education and music at Warwick University and finally in her early 20s returned to the flute after a long gap away from the instrument. 
In London in the 1990s she combined full-time primary school teaching with rehearsing, playing and recording with a variety of jazz-funk bands.  Age 40, she completed the BA in Jazz at Middlesex in 2003 after which she continued to compose but mostly kept her songs private. She has had several attempts at forming her own band but stage fright and severe self doubt have always hampered her efforts. Finally in 2012 she decided she had spent long enough hiding her musical voice. She set about learning skills in music production and completed her first CD, 'North Beach'  in 2014. She joined Terry Pack's Trees a year later and started writing for the 'unfeasibly big band' almost as soon as Terry invited members of the group to do so. It was this that slowly gave her the confidence to have another go at forming her own band and in the winter of 2017 rehearsals started with Blue Calluna.
Hilary has enjoyed several music courses at Berklee online based in Boston, US, and plays alto sax in the Sussex Jazz Orchestra under the leadership of musician, educator and husband Mark Bassey.  Her website, hilaryburtmusic.com, details her other composing work including music for animation, contemporary big bands and of course her songs for Blue Calluna.  She is available for commissions and would love to do some writing for a choir! She spends her days working freelance as a private dyslexia tutor; writing, playing, recording and producing music; and walking her dogs!
Lucy Pickering - vocals, flute
Lucy has been a professional singer for twenty years. She has sung aboard some of the world's most prestigious cruise liners, and in festivals, musical theatre productions and music venues around the UK. Since moving to Brighton, Lucy regularly fronts Singalongamusicals in the Brighton Fringe, the Retroactive Party Band, and the Chris Coull Big Band, as well as performing in various jazz and pop duos, trios and quartets. As a member of Terry Pack's unfeasibly large musical collective Trees, Lucy has performed at South Coast Jazz Festival and Love Supreme Jazz Festival. She also performs as a solo piano/vocalist and is a vocal coach. She has her own project, Court and Spark, which reinterprets some of Joni Mitchell's finest songs from the 1970's to 1990's.
Beccy Rork - soprano and tenor sax, flute